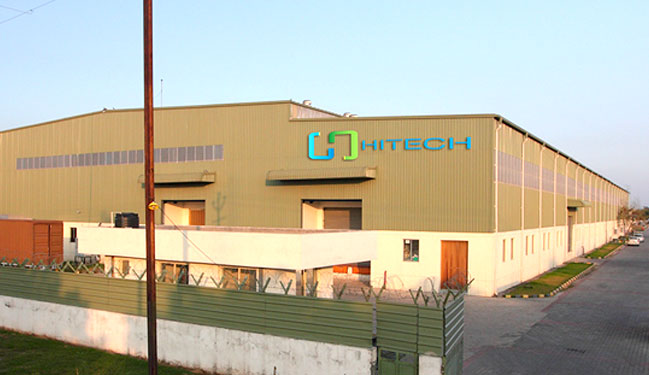 About Us
Hitech Corporation (formerly known as Hitech Plast) is a leading manufacturer of rigid plastic packaging and stands as the largest business of the Hitech Group. The company delivers durable, innovative and sustainable products, relying on a firm manufacturing prowess. Our 13 topnotch manufacturing facilities are strategically located near key client hubs to guarantee timely delivery & seamless access to a growing customer base of 1200 - across Paint & Coating FMCGs, Agrochemicals, Lubricants and Health Care industries.

A team of experts, designers and innovators come together to develop unmatched plastic packaging designs along with a range of sought-after products like plastic jars and containers of various capacities. Our dedicated R&D centre enhances our offerings and creates a 360º service model for our customers with unique end-to-end packaging solutions.

Products
Paints And Coatings

Personal Care

Home Care

Food & Beverages

Agrochemicals

Lubricants
Process
Chinchwad - D&D [tool room] process (CNC machine) for mould making

Khandala – IML (In-mould Labelling)

Naroli – IBM (Injection Blow moulding)

Rhotak - IM – HTL (Heat Transfer Label)

Rhotak - HTL – Fleet of IM (Injection moulding)

Sitarganj – Sleeving process for sticking labels in the bottles
Design & Development
Every single rigid plastic packaging design is built on ideas - ideas to enhance design and user experience, to challenge industry standards and create a holistic packaging for your product. This is why, for over 25 years, our Research & Development (Design) Centre in Pune, approved by the Government of India's Department of Scientific and Industrial Research (DSIR), lies at the helm of our rigid plastic packaging operations. With trained industry experts, technologists, and engineers, our manufacturing capabilities are complemented perfectly by not just technical proficiency but sound, insightful innovation.

Our aim is to take the consumer experience to unexplored avenues and that is precisely what we have set out to achieve in the centre spanning over 10,000 sq.ft. Our team has created over 500 mould designs and will take you through their analyses of various materials and designs, suggesting the ideal one for your end product. We also offer futuristic virtual reality renderings along with product prototyping to help you make a more informed decision. Additionally, expert tooling development and validation enables us to further improve our performance through optimized production.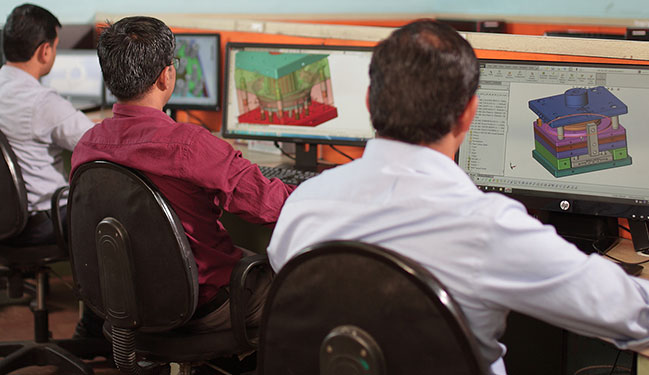 Design Capabilities
We combine innovators, product designers and engineers with an average industry experience of 8 years to give you visionary product & mould designs. Capitalizing on advanced design software the likes of SolidWorks, CreO, Key Shot, and Autocad, in addition to simulation and Mould Flow Analysis capabilities, our engineers ensure you get a unique design nothing short of the best in the industry.
Manufacturing Capabilities
Spurred by insightful R&D as well as a rich experience in the industry, the Hitech group today offers various mould designs for various pack sizes from 100 ml to 24 litres. Manufacturing has always been one of our strong suits with a diverse team of engineers having an average team experience of 10 years in rigid packaging.

Futuristic machinery in place allows us to enhance our leadership with capabilities such as CNC VTL, CNC VMC, CNC Centre Lathe, radial drilling, surface grinding, and gun drilling.

We also offer pioneering designs such as leak proof AMC packs, nested 20 Liter containers, and ergonomic, easy-opening spout variants, along with other advanced features such as unique mould cooling designs for bulk pack moulds.

Our 360º service model of end-to-end engineering solutions and consultation caters to your multifaceted requirements in rigid packaging, and has helped us become valued partners to top brands world over. Hitech Corporation's visionary R&D has resulted in packaging innovations that have made waves across sectors - food & beverage, healthcare, lubricants, personal care. We have revolutionized the packaging of leading brands such as Castrol, Procter & Gamble and Cipla.

Our goal at Hitech Corporation Research and Development Centre is not only to identify and cater to the demands in the existing market but to continuously evolve and shape as well as meet the requirements of the future.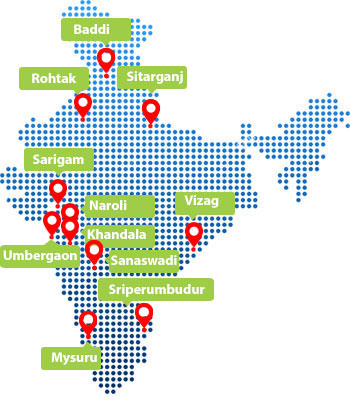 Our Customers